Insurance Claims
Insurance Claims in the Fort Worth & Keller, TX Area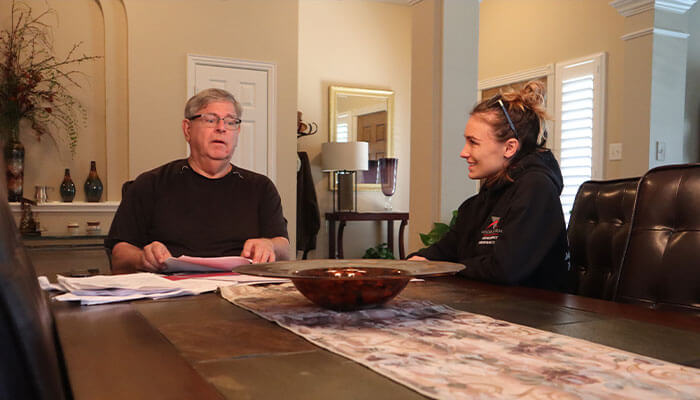 DID YOU KNOW? Most insurance companies will offer a payout of 33% LESS than what they can give you to repair your home. Let us help! We work closely with our own licensed insurance adjuster to make sure you get every penny your insurance company owes you!

Miller Storm Roofing & Reconstruction specializes in helping homeowners and businesses receive full compensation for damages incurred due to catastrophic storms. Most clients don't know how to exercise their insurance coverage or who to trust when these situations arise. We pride ourselves on bringing you our experience, knowledge, and up-to-date industry information.

We walk with you one hundred percent of the way by handling the initial property inspection, inviting an adjuster to assess the damage, meeting with the adjuster, and thoroughly examining estimates. We work directly with the licensed adjuster as they assess each estimate to ensure you're compensated for any missing items. We'll then schedule our contractors accordingly so we can swiftly complete each job. Being in a severe storm is stressful enough; for that reason, we're your one-stop company that handles everything for you from start to finish.
---
4 Steps of Submitting a Claim
Step 02: We meet with your Insurance adjuster and give them our findings.
Our team has already worked with many of the insurance adjusters in the area, so we are very familiar with them. We show them the damage we found, so they can give you an estimate of your insurance payout.
Step 03: We present the options for your budget.
Designer shingles, shingle color, energy efficient window screens, fencing materials, etc.
Step 04: We get to work.
Our experienced crew gets the work done right!
---
Storm Damage Claims
These claims are filed as a result of windstorms, hailstorms, snow and ice storms, and electrical or interior plumbing relating to a storm. Miller Storm Roofing & Reconstruction is knowledgeable and experienced in exterior as well as interior damage restoration. From water to hail damage repair, our professional crew has worked with hundreds of homeowners and agencies (property managers, public school systems, etc.) to help with insurance claims and restoration of the properties.
---
Denied Roof Insurance Claim
Have you been denied by your insurance? Have you invited your insurance company out to your property only to have the adjuster tell you that there is no damage? Surprisingly, this happens quite often, as insurance companies are in the business of holding onto their wallets as much as possible.

In cases like these, it is beneficial to have an experienced and honest contractor on-sight to represent you on your behalf. If you got a denied roof insurance claim in the Arlington, Fort Worth, Grapevine, or Keller, TX area, please don't hesitate to contact us for a free consultation on your next steps. Each situation is different, so we tailor each solution based on the circumstances.
---
Complete Inspections
Worried about more than just roofing damage? No problem! We do a complete perimeter check to make sure all roofing, window screens, siding, fencing and more are in good shape. Call us today so we can do a full inspection!