Commercial Roof Repair & Replacement
Commercial Roof Contractors Serving the Fort Worth, Grapevine, Arlington, & Keller, TX Area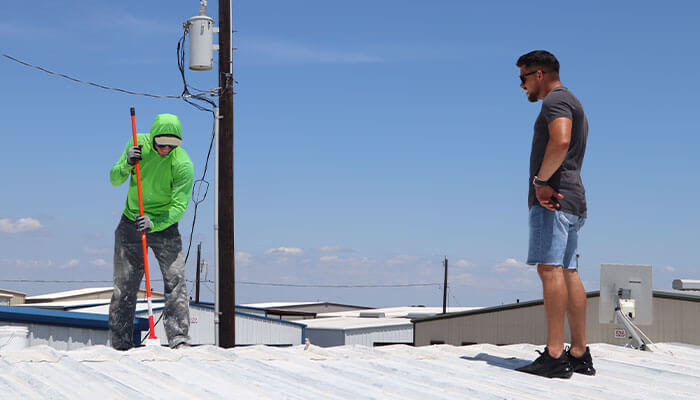 Looking for a reliable roofing contractor for a commercial building? Are you experiencing leaks or damages in the property? Then contact Miller Storm Roofing & Reconstruction! We have a professional contractor who can evaluate the property and explain what your options are. We will walk you through the variety of solutions you can choose from and recommend the one that best fits your needs. Whether you require a minor commercial roof repair or a complete replacement, our team is ready to help.

The greater Fort Worth, Arlington, Grapevine, and Keller, TX area is prone to severe storms in the winter months, causing extensive property damage. At Miller Storm Roofing & Reconstruction, we help companies and commercial properties with different types of roof installations, repairs, and replacements. No matter the project type or the needs of your project, our quality of work does not change. We take pride in providing the best service and always doing the right thing no matter what the project entails.
---
Commercial Roof Repairs
If you are in need of commercial roof repairs in the Arlington, Fort Worth, Grapevine, or Keller, TX areas, our roofing contractors can get the job done. You can tell if your roof has suffered damage if you notice dark spots, peeling or missing shingles, or bowing areas in your roof. You also might notice wet spots in walls or ceilings inside your building. We offer leak repair and more. Whether old age is causing issues or there has been damage due to a recent storm, our team can help with fast, effective repairs.
---
Commercial Roof Replacement
If your commercial roof is old and needs replacing, our roofing contractors can help. Our professionals will inspect your roof and determine whether a repair will work or if a full replacement makes more sense. We will work quickly to replace your roof as quickly and efficiently as possible so we don't interrupt your business operations.
---
Insurance Claims for Commercial Roofs
Some roof work might be covered, ether partially or in full, by your insurance policy. If you need assistance navigating the commercial roof insurance process while making repairs or constructing your new system, our team has the knowledge and experience to assist from start to finish. Put your trust in Miller Storm Roofing & Reconstruction today!